Carolina Marketing Company is the proud creator and distributor of the Discovery Map of Brunswick County, NC.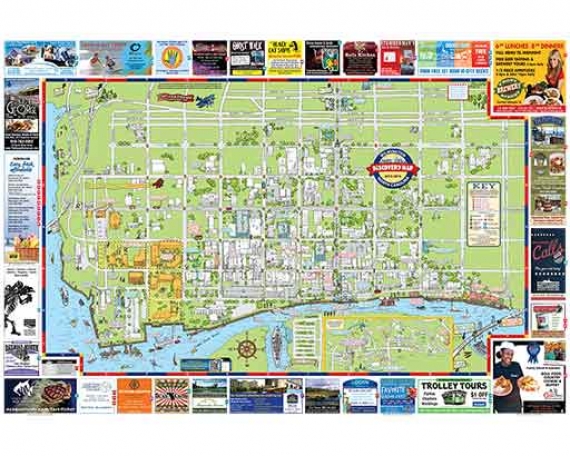 Discovery Map International, based in Waitsfield, Vermont, has been America's favorite tourist map brand for more than 30 years. The maps are available in more than 100 popular destinations through the United States as well as Puerto Rico, the United Kingdom and Central America, and are popular for their full-color, hand-drawn layouts and well organized service menus. The company's local franchise operators distribute more than 25 million travel maps a year in popular tourist destinations, the Brunswick County franchise distributing 200,000 of this 25 million among more than 300 well-known locations in your area. (See "Distribution" below).
Discovery Map International was formerly known as Resort Maps®. Waitsfield, Vermont-based Resort Maps®, creator of more than 100 hand drawn travel maps across the United States, Canada, England, Costa Rica and Puerto Rico, acquired Discovery Map International of La Conner, Washington, in January 2012. The acquisition united two of the leading publishers of illustrated maps in the United States. Local franchisee Carolina Marketing Company, LLC joins this powerful marketing team, bringing years of publishing experience and personal ties to the southeastern North Carolina community. Carolina Marketing Company, LLC offers local businesses an opportunity to work with a familiar face  in effectively reaching the thousands of tourists who visit the Brunswick County beaches each year.
---
Avenue of Distribution: Discovery Map is available at more than 300 locations in Brunswick County.
Targeted Bulk Distribution
We have indoor and outdoor racks throughout the area, where we distribute Discovery Maps in bulk quantities.
Some of the locations where you can find a copy:
Supply: Kangaroo, Galloway Sands Pharmacy, Anglers Marine, Little Country Store, Brunswick Community Hospital, Brunswick Animal Hospital, Lockwood Folly Marketplace, 101 Stone Chimney Place
Shallotte: Holiday Inn Express, Ferguson-Bath, Kitchen & Lighting, Microtel, Companion Animal Hospital, Kimball Furniture, BedLand, Nationwide, Century 21 Hometown, Farm Bureau, All State, Tideline Fabrics, Las Palmeras, Just Lovely, Collector's Corner, Tripp's Jewel Shop, Brunswick County Chamber of Commerce, Comfort Inn, Rourke Library, Wags & Whiskers, Naber Dodge, Ashley Furniture, Food Lion, Lowes Foods, CoastRoad Hearth & Patio, Coastal Insurance, Carolina Flooring, U.S. Cellular, Douglas Diamond Jewelers, Fantasy Nails, San Felipe, China Buffet, Osaka, Shallotte Insurance, Mama Brava's, Badcock Furniture, HWY 55 Burgers, Shakes & Fries, Jumpin Java, Walgreens
Calabash: Sunset Gallery, Lifestyle Properties, Re/Max, Century 21- Carolina Shores, Derbsters Restaurant, Sheltered Treasures, Heavenly Wings & Things, Bloomingdeals, Grapevine Restuarant, Beck's Restaurant, Ella's Restaurant, Tony's Pizza, Billy Bass Restaurant, Dockside Restaurant, Capt. Nance, Capt. John's, George's Pancake Restaurant, Calabash Deli & Bakery, Totally Chic Salon, Seaside Animal Care, Elite Repeats, Calabash Creamery, Granny Allyn's, Calabash Florist, Reflections, Nesbitt's Restaurant, Calabash Smoke Shop, Back Porch Ice Cream, Gold & Silver Connection, Haley's Restaurant, Bella's Restaurant, Calabash Garden Tea Room, Aziza's Restaurant, New China Restaurant, Food Lion, Nails & Spa, Grand Strand Coffee, Lowes Foods at Little River
Sunset Beach: La Cucina Italian Grill, Sunset Gourmet Cafe, Las Palmeras Restaurant, Fibber McGees, Silver Coast Properties, Shop Girl, Curiositiees, The Bridge Grill, Island Breeze, How Sweet It Is Ice Cream, Coldwell Banker Sloane Realty- Mainland, Sunset Beachwear, The Island Market, Continental Condos, Sunset Properties, Century 21 Sunset- Mainland, The Sunset Inn, Twin Lakes Restaurant, Crabby Oddwater Restaurant, Century 21 Sunset- Island, Coldwell Banker Sloane Realty- Island, Suzanne's Country Grill, Walgreens
Leland: Harris Teeter, Magnolia Greens C-Store, Honeybees Frozen Yogurt, Fuzzy Peach, Lowes Foods, Port City Java at Waterford, Port City Java at Brunswick Forest, Cross Creek Commons, HWY 55 Burgers, Shakes & Fries, Mexico Viejo, Buy & Go, PT's Grille, Holiday Inn Express at Magnolia Greens, Best Western Westgate Inn & Suites, Walgreens at Magnolia Greens, Walgreens Village Road